Vol. 2 No. 2 (2022): HITEC Medical and Dental Journal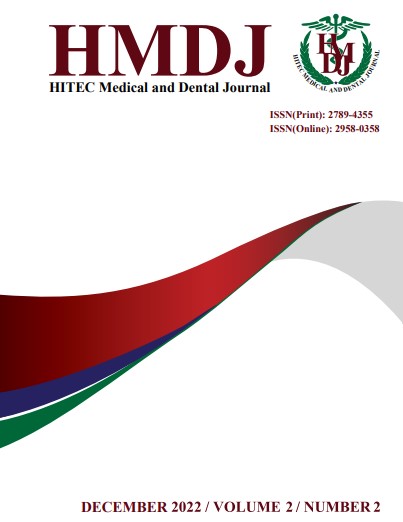 HMDJ is the journal of HITEC Institute of Medical Sciences (HITEC-IMS), Taxila. It is an open access, peer-reviewed, bi-annual journal that aims to keep the medical & dental health professionals updated with the latest information relevant to their fields.
HMDJ welcomes scholarly work from medical and allied subjects (basic & clinical), community health issues and medical education. It publishes original research, review articles, case reports, editorials, letters to editor, short communication, book reviews, recent advances, new techniques, debates, adverse drug reports, current practices, and conference reports. All publications of HMDJ are peer reviewed by subject specialists from Pakistan and abroad.
HMDJ December 2022 Volume 2 Number 2
Editorial
Structured House Job Training At HITEC-IMS And HIT Hospital, Taxila
Hamid Shafiq, Wasim Akhter
Original Articles
Determination of Expression of Scarb1 Gene, Fasting Blood Glucose and Body Mass Index in Type 2 Diabetics Presenting with and Without Dyslipidaemia
Khadeeja Siddique, Asifa Majeed
Role of Ultrasonography of Abdomen and Chest in Early Diagnosis of Severe Dengue Fever
Sumera Mushtaq, Ghulam Murtaza, Kiran Fatima, Kumail Kazmi, Qurat-Ul-Ain, Tassawar Hussain
Health and Living Conditions After Flood in Pakistan, 2022; Experience of one Union Council
Nafeesa Naveed, Noor us Saba, Musa Nadeem, Fariha Salman, Faiza Raheem Paracha, Hamna Khan
Accuracy of Cephalometric Images Acquired with Android Scanner Applications
Rehana Fayyaz, Sohrab Shaheed
Self-Assessment of Critical Thinking and Active Learning in Undergraduate Dental Students using Flipped Classroom Technique and Journal Clubs
Maryam Ahmad, Sadaf Mumtaz, Ambreen Gul, Qudsia Iqbal, Ayesha Jabeen
Case Report
Acute Urticaria and Localized Staphylococcal Skin Syndrome in Children with Sars Corona Virus Infection; Case Report
 Faiza Javed, Hira Basharat, Moizza Tahir, Irfan Ahmed
Case Series
Nekam's Disease: Three Cases from a Family with Autosomal Recessive Inheritance
Moizza Tahir, Afnan Bin Haq, Irfan Ahmed
Editor's Cutting Edge